Vancouver Street in downtown Prince George has long been a gathering place for friends. From 1942 to 1977, it was known as The Princess movie theatre, then as The Odeon from 1977 to 2001, and now as a conference centre suitable for business events, presentations, and milestone celebrations.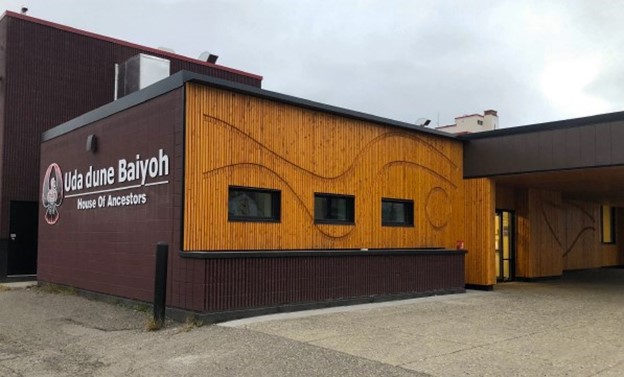 Uda Dune Baiyoh (House of Ancestors)
Tano T'enneh Limited Partnership, a business venture of Lheidli T'enneh Nation, rescued the shuttered cinema and reopened it in November 2018 as the Uda dune Baiyoh – House of Ancestors (HOA), following extensive renovations. Uda Dune Baiyoh is intended to provide Prince George and the surrounding region with a warm and welcoming venue that showcases Lheidli T'enneh history, traditions, culture, and identity.

It has a large hall with seating for 200 or more people, smaller meeting rooms, and a full kitchen.
The response has been extremely positive since its opening.  In addition to contributing to the revitalization of the downtown core, the conference centre offers a completely revamped alternative to other local venues that may be either too large or too small.
The HOA team put every effort to ensure exceptional resourcefulness and commitment to excellent customer service. The staff collaborates with clients to adapt the space to their specific needs. The structure is divided into four sections: a boardroom, a lounge, a right hall, and a centre hall, each of which can be rented separately.
The right and centre halls can be rented together to make a larger space.
Clients can rent many of the supplies they require, such as audio/visual equipment or decorative elements to create the ideal venue for mid-sized weddings, including a dance floor. In addition, the centre provides a variety of delicious options for breakfast, lunch, dinner, and, of course, snacks to keep guests going in between. All meals are served buffet-style, allowing guests to select the options that best suit their tastes and dietary restrictions. Menu items range from a popular bannock taco bar to a succulent roast beef dinner.