Natural Resources Department
The Lheidli T'enneh Natural Resource Department helps coordinate natural resource activities that take place on Lheidli T'enneh territory.  When industry and government wish to pursue forestry, mining, oil and gas exploration or other activities, the Natural Resource Department communicates between industry and government applicants, Chief and Council, and the Lheidli T'enneh band office Executive Director to address any concerns and ensure the activities are undertaken responsibly while respecting the needs of Lheidli T'enneh people.
Natural Resources Manager
Lheidli T'enneh Natural Resources Manager takes on multiple roles as a liaison, coordinating communication between industry and governments applying for natural resource use on Lheidli T'enneh land.  This includes internal strategizing and face-to-face meetings so that negotiations are fair and concerns are addressed.  Natural Resources Manager also writes own invoices, performs GIS analysis for other departments when necessary, processes referrals, and is the spill response agent when something happens on band land. The manager supervises the department which is responsible for looking after 5.4 million hectares of territory, 1.3 million of which belong exclusively to Lheidli T'enneh.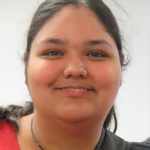 As the GIS Technician in the Natural Resources Department, Dalainey Bozoki performs GIS Analysis and creates a variety of maps of Lheidli's Territory & the surrounding area.
A Member of Lheidli T'enneh, Dalainey was born and raised in Prince George. An early interest in Geology became a fascination with Archeology, and that continued evolving to include History, Mythology and the Earth & Sky. So much so, that throughout her Elementary and High School years, she strove to learn all she could about the subjects. Eventually, they all fell neatly into place as a passion for Cultural Anthropology and preserving the Land and her Culture. Whenever the opportunity to further her knowledge & skills presented itself, Dalainey strove to master it. Last year, Dalainey received her GIC Technicians Certificate, and she hopes to further Lheidli T'enneh's interests in the territory, and serve her community to best of her ability.
When not making Maps or helping with Data Analysis, Dalainey can still be found reading about History or Mythology, out late on clear nights to watch the stars or the Northern Lights (when she's lucky enough to catch them), and during Hockey Season, Dalainey has been found at the Coliseum, volunteering as a First Aid Attendant for the Prince George Spruce Kings.
What is a natural resources referral?
A referral is a consultation package submitted by governments or industries interested in proposing development that may impact Lheidli T'enneh Title and Rights.  Referrals are examined from environmental, social, and archaeological perspectives and provide recommendations on whether or not to support the referrals.  This research helps highlight concerns and suggestions in order to mitigate potential impacts while also developing consent and improving negotiations for decision-makers and the stakeholders involved.  
Referrals are typically in response to Forestry and Mining operations, but may also include land sales, agriculture and range, water licences, archaeological studies, and residential development.  By working with the Lheidli T'enneh Economic Development Department, this process ensures that the collaboration on potential projects are in the best interest of Lheidli T'enneh. 
Referral packages and referral procedures can be found in the following links:  (Insert link)
The Province of British Columbia has a duty to consult and where required, accommodate First Nations whenever it proposes a decision or activity that could impact treaty rights or aboriginal rights (including title), whether or not these are claimed or proven. The duty stems from court decisions and is consistent with the Province's commitment to building a new relationship with First Nations.
Archaeology and Cultural Heritage
By working with local archaeological companies, Lheidli T'enneh ensures appropriate assessments are completed with participation and training components for our membership. Archaeological sites are critical to maintaining the Lheidli T'enneh history and connection to the land.
The Provincial Government recognizes the importance of archaeological sites through the Heritage Conservation Act. Under this Act, the Archaeology Branch is responsible for maintaining and distributing archaeological information and deciding if permits can be issued to allow development to take place within protected sites.
The Natural Resource Department is currently looking at improving the archaeological models in order to better incorporate cultural data and develop a more comprehensive examination of archaeological sites.
Contact the referrals officer for the heritage investigation permit application and policy at archreferrals@lheidli.ca
The Natural Resources Department consults with local major forest companies and reviews harvesting and road building activities. These technical reviews ensure the protection and continuation of traditional use, archaeology, environment, and wildlife.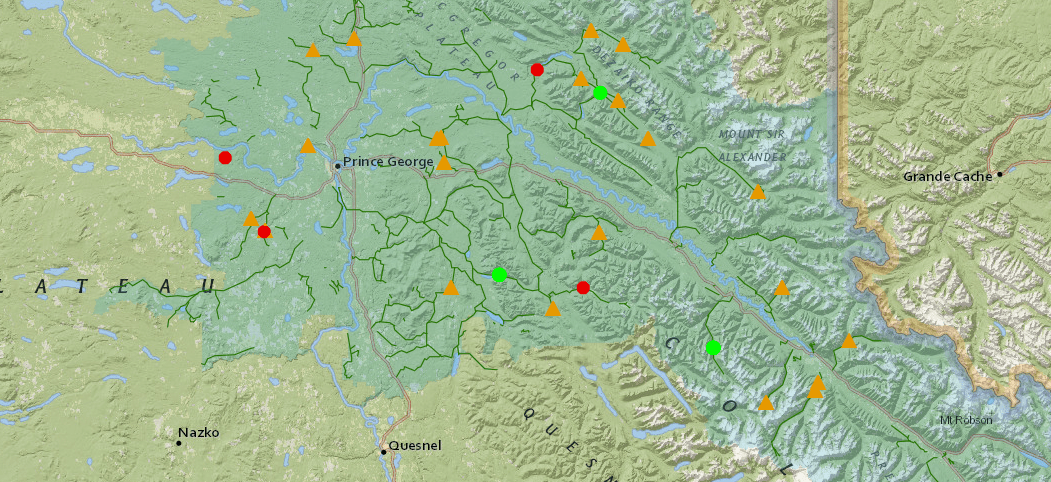 Maintaining up-to-date information on forestry road closures and deactivations is important to our band members.  Here are the FSR online maps that show deactivations and road closures.  Clicking on the symbols will provide additional information about the issue and when the expected planned repair is.  This will work on any cell phone using an Android operating system.
Herbicides – On March 16, 2016, a letter was submitted to the Ministry of Forests, Lands, Natural Resource Operation and Rural Development, and local forestry companies stating: "We do not support the use of herbicides such as Glyphosate (Round up) within Lheidli T'enneh Territory".  We are currently awaiting a formal response from the provincial government. (To be potentially updated)
One currently proposed project on Lheidli T'enneh territory is the Giscome Quarry and Lime Plant project, located in Giscome, British Columbia.   About 45 minutes northeast of Prince George in the Regional District of Fraser-Fort George, the Giscome project will include a limestone quarry, a lime processing facility, and a conveyor that will move crushed limestone from the quarry to the plant site.  The location of the quarry and plant site is illustrated in the maps below: 
The map below highlights protected areas and parks on Lheidli T'enneh traditional territory.  These areas are important so band members can practice their rights and not be disturbed.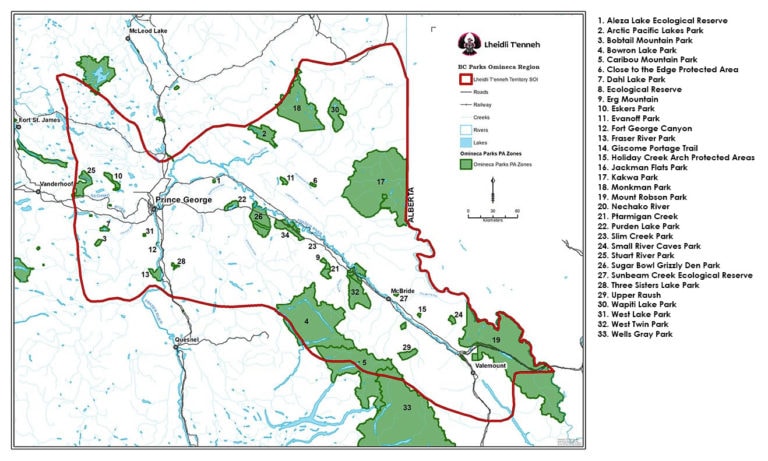 Chun T'oh Whudujut/Ancient Forest Provincial Park – One of the most popular parks within the traditional territory of the Lheidli T'enneh, this park protects a portion of the only inland temperate rainforest in the world.  Hiking the Ancient Forest trail brings you past thousand-year-old western red cedars and a rich biodiversity of plants, mosses, lichens and fungi.  The 450-metre long universal access boardwalk provides the opportunity for people with all abilities to experience this majestic area.  Another 2.3 km of boardwalk provides access to the magnificent "Big" Tree, Tree Beard, Radies Tree, as well as a beautiful cascading waterfall.  Lheidli T'enneh is currently collaborating with BC Parks to co-develop the Park Management Plans.
Lheidli T'enneh has conducted multiple Traditional Use Studies related to forest harvesting, pipeline projects, and a mining project. We have extensive data showing continued use of Lheidli T'enneh traditional activities within the territory and on the land.  This data may be utilized to inform and prevent impacts to membership rights and interests. (post link)
Moose – Updates on provincial moose research in the Omineca region: A comprehensive 5 year moose study that investigates recent moose population declines in B.C's interior is underway.
Lheidli T'enneh Natural Resources Department