Economic Development Department
The Lheidli T'enneh Economic Development Department develops, implements, and manages economic opportunities and strategies.  Working with Chief & Council, and Administration, the Economic Development Department focuses on projects that benefit the Lheidli Band and its members. Such opportunities can include, partnerships, joint ventures, revenue sharing agreements, employment agreements as well as funding opportunities.
With 4.5 million hectares of land under Title and Rights, many of these economic development opportunities are tied closely to Lheidli T'enneh Land and Water Resources (mining, logging, fishing, hunting, tourism, etc.)  In 2019, the Natural Resources Department was created and became its own department separate from Economic Development in order to focus on the referral process specifically for activities taking place on land and water resources in the Lheidli Territory.  Staff from both departments continue to work closely together, however, in order to develop potential business opportunities that align with Lheidli T'enneh's values and knowledge systems.
Allan Stroet. Economic Development Manager
Mr. Allan Stroet is the Manager of Economic Development with the Lheidli T'enneh Nation.  He brings almost 15 years of economic development management experience with him to the role where he played key roles in attracting investment, working with new and existing entrepreneurs, and acquiring grant funding.  At LTN, he is responsible for, among other things, managing existing and potential relationships with proponents, corporations, and partner businesses.  Allan is also responsible for connecting band owned or member owned businesses to opportunities that are presented to the Lheidli T'enneh Nation.  The Economic Development department is the first stop for companies wanting to do business in or with the Lheidli T'enneh Nation. 
Allan was born and raised in Smithers and came to Prince George in 2001 to attend the University of Northern British Columbia where he received his Bachelor of Commerce degree in 2006.  In addition to his economic development experience, he has experience in the financial sector as well as the forest sector.
Emmanuel Ogwal. Economic Development Officer
Mr. Emmanuel Ogwal is the Economic Development Officer at the Lheidli T'enneh Nation. Emmanuel brings with him solid expertise in a wide range of experiences namely: economic development policy and planning, economic research assessment, data science, as well as, efficient coordination skills. Prior to joining Lheidli T'enneh Nation, he gained paramount experiences in the economics research and data science fields. His education background in Quantitative Economics, Development Economics, and Data Science places him in a suitable spot for organization planning and coordination.
At Lheidli T'enneh Nation, Emmanuel coordinates all economic development related activities at Lheidli T'enneh assigned to him by the Economic Development Manager.
Karyn Sharp. Ancient Forest Enhancement Project (AFEP) Manager (Currently Away on Leave)
Karyn Sharp, Denesuline of the Black Lake First Nation, is the Project Manager for the AFEP at the Lheidli T'enneh Nation. She brings with her strong expertise in a wide range of experiences namely: project management, Strategic Management, and research skills. Prior to joining Lheidli T'enneh Nation, she worked and gained her experiences in the consultation industry, academia, as well as, organization leadership specific to aboriginal ventures. Her education background in Anthropology and Archaeology solidifies her place in the AFEP management role.
At Lheidli T'enneh Nation, Ms. Sharp is responsible for overseeing management of the day-to-day operations of the AFEP. 
Deryl-Lynn Seymour. Tourism Coordinator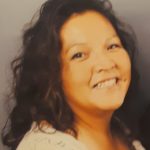 Ms. Deryl-Lynn Seymour is the Tourism Coordinator at Lheidli T'enneh Nation. she works together with the Economic Development Manager, the AFEP Manager, AFEP Coordinator, Economic Development & Natural Resources Coordinator to ensure the Tourism matters of the department are functioning efficiently.  She is also responsible for communications, developing, uploading and updating newsletters, annual reports, among other articles on the Lheidli T'enneh Website.
The Economic Development Department Structure
United Nations Declaration on the Rights of Indigenous Peoples (UNDRIP) and Free, Prior and Informed Consent (FPIC)
Adopted by the United Nations General Assembly in 2007, this resolution states that:
"Indigenous peoples have the right to practise and revitalize their cultural traditions and customs. This includes the right to maintain, protect and develop the past, present and future manifestations of their cultures, such as archaeological and historical sites, artefacts, designs, ceremonies, technologies and visual and performing arts and literature."  
The UN website describes this declaration in more detail.  
Officially adopted by the Province of BC in 2019, UNDRIP provides additional support and guidance for sustainable activities that take place on unceded Lheidli T'enneh territory. 
Free, Prior and Informed Consent (FPIC) 
Recognised in the UNDRIP, Free, Prior and Informed Consent (FPIC) is a specific right that pertains to indigenous peoples.  It allows them to give or withhold consent to a project that may affect them or their territories. Once they have given their consent, they can withdraw it at any stage. Furthermore, FPIC enables them to negotiate the conditions under which the project will be designed, implemented, monitored and evaluated.  This is also embedded within the universal right to self-determination.
This framework of consent is intended to establish a foundation of understanding for proponents wishing to partner with Lheidli T'enneh.  According to FPIC's website:
The consent is free, a process given voluntarily and without coercion, intimidation or manipulation.
The consent is sought sufficiently in advance of any authorization or commencement of activities (prior).
This engagement and type of information provided prior to seeking consent is also part of the ongoing consent process, keeping parties informed.
The collective decision made by right holders and reached through a customary decision-making process of the communities establishes consent.
The Economic Development often receives requests for partnerships from the academia, government, industry, and not for profit organizations.
If you would like to partner with us, please fill out the partnership form and send us an email with the filled-out form to the following email address: [email protected]. We will respond to you within 3-5 business days. Please note that we will be responding to partnership inquiries in the order in which we receive them.